Line 1:
Line 1:
 
+
−

'''A Change of Seasons''' is the fourth EP released by [[Dream Theater]] in [[1995]]. The EP was created to showcase the song [[A Change of Seasons (song)|A Change of Seasons]], which was originally meant to be on the album [[Images and Words]]. It the most common EP the band has released, and is sometimes considered to be an album due to it's length. It is known also for it's inclusion of live cover songs.[[File:A Change of Seasons.jpg|thumb]]

 
 
+
 
+
 
+

<p style="line-height:19px;color:rgb(0,0,0);font-family:sans-serif;">'''''A Change of Seasons''''' is an [http://en.wikipedia.org/wiki/Extended_play EP] by [http://en.wikipedia.org/wiki/Progressive_metal progressive metal] band [http://en.wikipedia.org/wiki/Dream_Theater Dream Theater], released in 1995. It comprises the 23-minute title track and a collection of bonus live [http://en.wikipedia.org/wiki/Cover_version covers] performed at a fan club concert at [http://en.wikipedia.org/wiki/Ronnie_Scott#Ronnie_Scott.27s_Jazz_Club Ronnie Scott's Jazz Club] in [http://en.wikipedia.org/wiki/London London], [http://en.wikipedia.org/wiki/England England].</p>

 
+
 
+

<p style="margin-top:0.4em;margin-bottom:0.5em;line-height:19px;color:rgb(0,0,0);font-family:sans-serif;">The title track, which was recorded at BearTracks Studios in New York, includes samples from the film ''[http://en.wikipedia.org/wiki/Dead_Poets_Society Dead Poets Society]''. The lyrics were written by[http://en.wikipedia.org/wiki/Mike_Portnoy Mike Portnoy], about the death of his mother. ''A Change of Seasons'' was also the first Dream Theater release featuring [http://en.wikipedia.org/wiki/Derek_Sherinian Derek Sherinian] on keyboards.</p>

 
+
 
+

<p style="margin-top:0.4em;margin-bottom:0.5em;line-height:19px;color:rgb(0,0,0);font-family:sans-serif;">An edited version of the title track was used in a downhill skiing feature during the [http://en.wikipedia.org/wiki/2002_Winter_Olympic_Games 2002 Winter Olympic Games].<sup class="reference" id="cite_ref-Dream_Theater_Olympics_Spot_1-0" style="line-height:1em;">[http://en.wikipedia.org/wiki/A_Change_Of_Seasons#cite_note-Dream_Theater_Olympics_Spot-1 [2]]</sup></p>

 
+
 
+

<p style="margin-top:0.4em;margin-bottom:0.5em;line-height:19px;color:rgb(0,0,0);font-family:sans-serif;">Note that this is considered an EP only in name—at 57:31, it is much longer than a standard EP, or, indeed, many LPs. In fact, it is longer than Dream Theater's first two albums. [http://en.wikipedia.org/wiki/Mike_Portnoy Mike Portnoy] has said "It was important for us and the label for it not to be perceived as the latest studio record. That's why we tagged it an EP."<sup class="reference" id="cite_ref-2" style="line-height:1em;">[http://en.wikipedia.org/wiki/A_Change_Of_Seasons#cite_note-2 [3]]</sup></p>

 
+
 
+

[[File:A Change of Seasons.jpg|thumb]]

 
+
 
+
 
+
 
 
 

== Personnel ==

 

== Personnel ==

Line 13:
Line 27:
 
 
 

1. [[A Change of Seasons (song)|A Change of Seasons]] (Portnoy) 23:09

 

1. [[A Change of Seasons (song)|A Change of Seasons]] (Portnoy) 23:09

 
+

*I. The Crimson Sunrise 3:50

 
+

*II. Innocence 3:04

 
+

*III. Carpe Diem 3:14

 
+

*IV. The Darkest of Winters 2:53

 
+

*V. Another World 3:58

 
+

*VI. The Inevitable Summer 3:13

 
+

*VII. The Crimson Sunset 2:54

 
 
−

2. [[Funeral for a Friend/Love Lies Bleeding]] (Elton John) 10:49

+

2. [[Funeral for a Friend/Love Lies Bleeding]] (Elton John) 10:49

 
 
−

3. [[Perfect Strangers]] (Deep Purple) 5:33

+

3. [[Perfect Strangers]] ( ) 5:33

 
 
−

4. [[The Rover/Achilles Last Stand/The Song Remains the Same]] (Led Zeppelin) 7:29

+

4. [[The Rover/Achilles Last Stand/The Song Remains the Same]] ( ) 7:29

 
+

*The Rover

 
+

*Achilles Last Stand

 
+

*The Song Remains the Same

 
 
 

5. [[The Big Medley]] (Pink Floyd, Journey, Kansas, Queen, The Dixie Dregs, Genesis) 10:33

 

5. [[The Big Medley]] (Pink Floyd, Journey, Kansas, Queen, The Dixie Dregs, Genesis) 10:33

 
+

*In the Flesh? (Roger Waters) 2:25

 
+

*Carry on Wayward Son (Kerry Livgren) 2:10

 
+

*Bohemian Rapsody (Freddie Mercury) 1:25

 
+

*Lovin', Touchin', Squeezin' (Steve Perry) 2:07

 
+

*Cruise Control (Steve Morse) 1:03

 
+

*Turn it on Again (Mike Rutherford/Rutherford, Tony Banks, Phil Collins) 1:23
---
Revision as of 01:09, 3 July 2012
A Change of Seasons is an EP by progressive metal band Dream Theater, released in 1995. It comprises the 23-minute title track and a collection of bonus live covers performed at a fan club concert at Ronnie Scott's Jazz Club in London, England.
The title track, which was recorded at BearTracks Studios in New York, includes samples from the film Dead Poets Society. The lyrics were written byMike Portnoy, about the death of his mother. A Change of Seasons was also the first Dream Theater release featuring Derek Sherinian on keyboards.
An edited version of the title track was used in a downhill skiing feature during the 2002 Winter Olympic Games.[2]
Note that this is considered an EP only in name—at 57:31, it is much longer than a standard EP, or, indeed, many LPs. In fact, it is longer than Dream Theater's first two albums. Mike Portnoy has said "It was important for us and the label for it not to be perceived as the latest studio record. That's why we tagged it an EP."[3]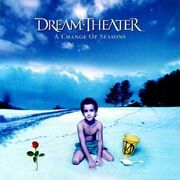 Personnel
Tracklist
1. A Change of Seasons (Portnoy) 23:09
I. The Crimson Sunrise 3:50
II. Innocence 3:04
III. Carpe Diem 3:14
IV. The Darkest of Winters 2:53
V. Another World 3:58
VI. The Inevitable Summer 3:13
VII. The Crimson Sunset 2:54
2. Funeral for a Friend/Love Lies Bleeding (Bernie Taupin/Elton John) 10:49
3. Perfect Strangers (Ian Gillan/Ritchie Blackmore, Roger Glover) 5:33
4. The Rover/Achilles Last Stand/The Song Remains the Same (Robert Plant/Jimmy Page) 7:29
The Rover
Achilles Last Stand
The Song Remains the Same
5. The Big Medley (Pink Floyd, Journey, Kansas, Queen, The Dixie Dregs, Genesis) 10:33
In the Flesh? (Roger Waters) 2:25
Carry on Wayward Son (Kerry Livgren) 2:10
Bohemian Rapsody (Freddie Mercury) 1:25
Lovin', Touchin', Squeezin' (Steve Perry) 2:07
Cruise Control (Steve Morse) 1:03
Turn it on Again (Mike Rutherford/Rutherford, Tony Banks, Phil Collins) 1:23
Community content is available under
CC-BY-SA
unless otherwise noted.