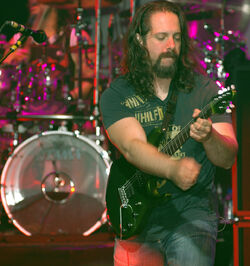 John Peter Petrucci (born July 12, 1967) is an American Virtuoso Guitarist and songwriter best known as a founding member of the progressive metal band Dream Theater. Along with his bandmate Mike Portnoy, he has produced all Dream Theater albums since their 1999 release, Scenes from a Memory. Petrucci was named as the third player on the G3 tour six times, more than any other invited guitarist. GuitarOne ranked him as the 9th Greatest Shredder of All Time.
Early life
John Petrucci was born on July 12, 1967 in Kings Park, New York, a suburban town on Long Island, to an Italian American family. He picked up the guitar at the age of eight because his older sister was allowed to go to bed later in order to practice the piano. However, he decided to quit the guitar when his attempts to stay up late were unsuccessful. He picked up the guitar again at the age of 12 and quickly realised that music was his passion, and practised for at least 6 hours a day. His main influences at the time were progressive rock and heavy metal acts including Rush, Yes, Iron Maiden and later Metallica, Yngwie Malmsteen and Queensrÿche.
Berklee and role in Dream Theater
Petrucci along with his childhood friend John Myung attended Berklee College , and the two friends came across Mike Portnoy, another Long Island native who shared an interest in progressive and metal music. The three struck up an immediate friendship and, along with another high school friend Kevin Moore on keyboards and Chris Collins on vocals, and started a band, "Majesty", later known as Dream Theater based on their mutual influences.
Petrucci's role in Dream Theater can best be described as a "co-leader" along with Portnoy, whom he had been known to defer to in certain cases. Petrucci's influence in the band, particularly songwriting, is vast, perhaps only secondary to Portnoy due to Portnoy's more vocal approach.
Relationship with musicians and fans
To many, Petrucci seems like the more quiet counterpart to Mike Portnoy, seeming to be an amiable yet reserved individual. Petrucci has working relationships with many musicians, though if he has any friendships with them, they are kept private.
Petrucci's relationship with his fans is also reserved. As opposed to Portnoy, who goes out of his way to converse and meet with fans, Petrucci doesn't seek them out, however fans have noted him to be approachable and amiable in person. Petrucci, like Portnoy has a website with a forum, however his posts are infrequent and usually related only to his music.
Personal Life
Very little is known about Petrucci's personal life, as he chooses to live privately. He has a wife, Rena Petrucci as well as three children; Remy, Kiara and SamiJo. It is likely that Petrucci's strict regimen of exercise and practice keeps him from having very much spare time, though he does reportedly enjoy video games. Petrucci is also known to be religious, a practicing Catholic, something that is often reflected in his lyrics.
Other Skills
Although Petrucci is primarly known as a guitarist, he has other skills as well. Like with Portnoy, Petrucci is a skilled songwriter and lyricist, writing most of the lyrics for Dream Theater songs, far more than any other member. He co-produced every Dream Theater album from Scenes From a Memory to Black Clouds & Silver Linings until Portnoy's departure in 2010, when Petrucci produced their proceeding album A Dramatic Turn of Events by himself. He also performs backing vocals, both live and in the studio, and has done so since the Awake tour.
When Dream Theater performs as Nightmare Cinema Petrucci plays drums, however his skill is seen as miminal, his overly zealous technique leading to him tiring himself completely out after one short song, much to Portnoy's amusement.
Influences, awards and other accomplishments
Petrucci is a largely self-taught guitarist who developed his skills through attempts to match the skill of his idols, who included Steve Morse, Steve Howe, Steve Vai, Stevie Ray Vaughan, Al Di Meola, Alex Lifeson and Allan Holdsworth. He has jokingly referred to his guitar idols as "the Steves and the Als".
Petrucci has released a guitar instructional video, "Rock Discipline", which covers warm up exercises, exercises to avoid injury while playing, alternate picking, sweep picking, chords and other techniques for developing one's guitar playing. Petrucci also has a book named "Guitar World presents John Petrucci's Wild Stringdom", which was compiled from columns he wrote for Guitar World magazine, bearing that same title.
In 2001 he was invited by Joe Satriani and [Steve Vai to tour with them on the popular G3, which exposed him to a massive number of new fans and inspired him to record a solo album. Suspended Animation was released on March 1, 2005, and made available for order from his web site. He also appeared on the 2005, 2006 and 2007 G3 tours.
Petrucci also wrote and recorded two instrumental soundtrack songs for a Sega Saturn game titled Digital Pinball: Necronomicon. Each track is roughly two minutes long and they are simply titled "Prologue" and "Epilogue". Petrucci is an avid Sega Saturn gamer, and has revealed in interviews that he never tours without one.
In 2007, John Petrucci went on G3 tour again, this time with Joe Satriani and Paul Gilbert.
John Petrucci won the "Guitarist of the Year 2007" award recently in Total Guitar Magazine.
He is a voting member of National Academy of Recording Arts and Sciences.
Asian Juice
Petrucci is respected for his variety of guitar styles and skills. One of the most notable of these is his high speed alternate picking which, as he himself claims, requires a "strong sense of synchronization between the two [playing] hands." 
Equipment
Studio Albums
When Dream and Day Unite
Images and Words - Mesa Boogie Triaxis, Marshall JMP1 for Metropolis Pt.1, Roland JC120 for cleans.
Awake - Only album to be quadruple layered. 2 takes using Mesa Boogie Dual Rectifier, 2 takes using Mesa Boogie Mark IIC+
A Change of Seasons - Mesa Boogie Mark IIC+, Mesa Boogie Mark IV, Mesa Boogie TriAxis
Falling Into Infinity - Mesa Boogie Rectifier, Mesa Boogie Mark IIC+, Mesa Boogie Mark IV, Mesa Boogie TriAxis
Scenes From A Memory - Mesa Boogie Mark IIC+, Mesa Boogie Mark IV
Six Degrees of Inner Turbulence - Mesa Boogie Mark IIC+, Mesa Boogie Dual Rectifier
Train Of Thought - Mesa Boogie Road King Series I
Octavarium - Mesa Boogie Road King Series I & II, Mesa Boogie Mark IIC+, Mesa Boogie Lonestar
Systematic Chaos - Mesa Boogie Lonestar, Mesa Boogie Mark IV
Black Clouds & Silver Linings - Mesa Boogie Lonestar, Mesa Boogie Mark IV, Mesa Boogie Mark IIC+, Mesa Boogie Mark V
Suspended Animation (solo cd) - Mesa Boogie Roadking Series 1, Mesa Boogie Mark IIC+
Liquid Tension Experiment - Mesa Boogie TriAxis, Mesa Boogie 2:90 power amp
Liquid Tension Experiment 2 - Mesa Boogie Mark IIC+, Mesa Boogie Mark IV
A Dramatic Turn of Events - Mesa Boogie Mark V, Fractal Audio Axe-Fx
Live
Discography
With Dream Theater
Studio Albums
Extended Plays
Live Albums
Compilations
Fan Club CDs
Offical Bootlegs
Demo Series
Live Series
Studio Series
Covers Series
With Liquid Tension Experiment
Others
Videos