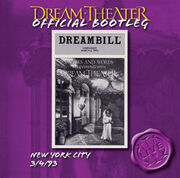 New York City 3/4/93 is an Official Bootleg by Dream Theater released by Mike Portnoy on his YtseJam Records label. The album contains an entire show from the tour to support Images and Words. It is notably the first of the live series not to have Derek Sherinian.
This Official Bootleg was originally known as "The Dance of Eternity", and was significant for being the bootleg that introduced a lot of fans to the original version of "A Change of Seasons". This bootleg was responsible for the creation of the petition fans made which led to the recording and release of the 1995 EP.
1. Metropolis—Part I: "The Miracle and the Sleeper" (Petrucci)
2. A Fortune in Lies (Petrucci)
3. Under a Glass Moon (Petrucci)
4. Surrounded (Petrucci)
5. Ytse Jam (Instrumental)
6. To Live Forever (Petrucci)
7. Take the Time (Portnoy, Petrucci, LaBrie, Moore)
1. Eve (Instrumental)
2. Pull Me Under (Moore)
3. Another Day (Petrucci)
4. Another Hand (Instruemntal)
5. The Killing Hand (Petrucci)
6. A Change of Seasons (Portnoy)
7. Wait for Sleep (Moore)
8. Learning to Live (Myung)
Community content is available under
CC-BY-SA
unless otherwise noted.