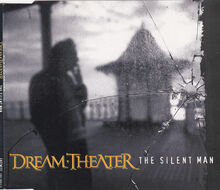 The Silent Man is the third EP released by Dream Theater in 1994.
The EP was released to promote the song The Silent Man from the album Awake. The EP is known for one of the few commercially available (albiet rare) Dream Theater releases to contain the song Eve, the other being the two-disc Japanese version of the Awake album, with Eve included on a mini-CD bonus disc.
1. The Silent Man (Petrucci) - 5:10
2. Take the Time (demo) (Portnoy, Petrucci, LaBrie, Moore) - 8:00
3. Eve (Instrumental) - 5:10
Community content is available under
CC-BY-SA
unless otherwise noted.