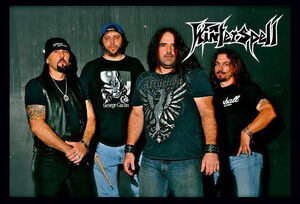 Winterspell is a Ronkonkoma, Now York based Death-Metal band that is compromised of singer, Guitarist, and lyricist and song writer Chris Collins, Drummer Tony Matassa, Guitarist Dennis Sadlo, and bassist Tony Ciannciato. Collins was formerly of the band Majesty (Dream Theater), though they kicked him out shortly after he joined. Winterspell's music has been described as Blackened Death Metal, though they have clean vocals, unlike most bands of this genre, though they do insert Growls into there songs. There are currently working on there Debut album, and they can be found on other sites such as MySpace.
Community content is available under
CC-BY-SA
unless otherwise noted.